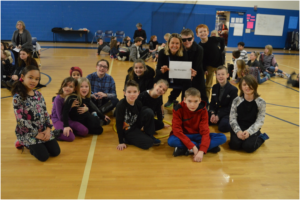 The strength of Our Savior Lutheran rests in the teaching staff working closely with parents on behalf of the students.
This partnership between home, church, and school is what sets us apart from public and other parochial schools. We offer a rigorous academic program with Christ-centered instruction emphasizing a Biblical World View. We hold accreditation with the state of Michigan and with MANS (Michigan Association of Non-Public Schools) and NLSA (National Lutheran School Accreditation).
We strive to enhance the full education experience for the students we serve. Here are just a few of the amenities and experiences we offer to assist in student development and personal growth:
Single-grade classes grades K-8
All-day Kindergarten
Developmentally appropriate Preschool and Pre-Kindergarten
Year-round Early Childhood Extension Program for 3 and 4 year olds
Year-round Extended Care for Kindergarten through 8th Grade students from 7am-6pm
Summer Day Camp for 3 year olds through 8th Grade
Shared teacher program with Grand Ledge public schools providing teachers for Physical Education, Art, Computers, and Music/Band
Student management system that allows online access by parents to view grades, manage financial accounts, contact teachers and other parents, etc.
Phone notification system and online parent-teacher conference scheduling
Grades 1-8 yearly assessments through Stanford Achievement Testing
Athletic Program offering team sports in the areas of basketball, cross country, and track.
We are proud of the accomplishments with which the Lord has blessed us these past 60 years and look forward to the future with hope and confidence that the Lord will continue to bless us. We pray that you will join the family at Our Savior Lutheran and see why we feel that we are second to none when it comes to preparing children for life in the 21
st
century.
Our Savior Lutheran Church and School
7910 E. St. Joe Hwy., Lansing, MI 48917 | 517.882.8665
2017 Copyright. All Rights Reserved.